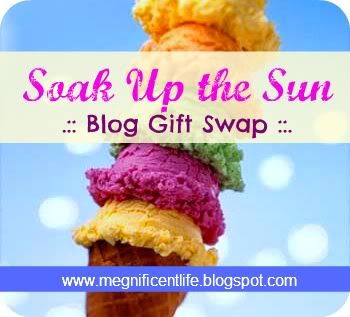 For a few months now I've seen many different blog gift swaps and never got around to joining one. Last month
Meg
hosted a Soak Up the Sun Blog Gift Swap and thought I should join in, I mean who doesn't love receive goodies in the mail between all the bills and junk mail we receive daily, right.
I was partnered up with
Andi
you must stop by her blog and check out her 4th of July DIY projects! She's very creative and the sweetest.
So this is what I received in my swap!
* Thank You Cards
* Lip Gloss w/ Star Charm
*Perfume
* Nail Polish
*Bracelets
*Earrings
*Nerds
Andi you did a FANTASTIC job!
I love all my goodies!
Thanks Again!
P.S. If you have never participated in a swap, YOU SHOULD!!!