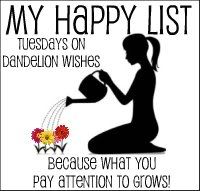 TODAY and EVERYDAY I'm HAPPY for...
-The parents I have... No matter what I get into, they're always there to guide me.
-These 2 little monsters that make waking up every day so much better.
-The bestfriends I have and how together it's OK to be a little silly.
-My Morning Fix....Thank You Starbucks!
-That I'm going to visit G in April. :)
-That my life is slowly getting back to normal...now if I could only find the extra time to sleep, I'd be in great shape.
-The new smiles and laughter that have recently entered my life. ;)