TGIF! As my baby cousin Ari would dance & sing to this morning...
"It's the Weekend...Party Party!"
She's only 3 and she's already ready to party the weekends, boy my cousin's are going to be introuble!!!
Isn't she the cutest?!
I'm so excited to get this weekend started. This is the first weekend in 16 weeks since I've had a FREE Saturday, oh how my pillows are going to love the extra cuddle time I have in store for them. I'm looking forward to spending the day outdoors and enjoying the sun! I'm going to take my honeybee on his first Airboat tour of the Everglades and the Wildlife Exhibit.
I took my nieces a few months ago, and WE loved it!
Honestly, I think I'm more excited about it than he is. :)
And we recently discovered a mini water park near my house, so I'm going to surprise my nieces with a day trip to the water park.
I'll tell you all about it over the weekend.
So I'm participating in a few Blog Gift Swaps this Summer, and yesterday I received my
"Soak up the Sun Blog Swap Buddy" from
Meg
. Thanks Meg!!!
I was partnered up with the beautiful Andi over at
Just Another Smith
she blogs about her style and her life's random moments. I've spent the night catching up on her posts and she's totally the cutest!
Anywho, I can't wait to go shopping for her this weekend!!!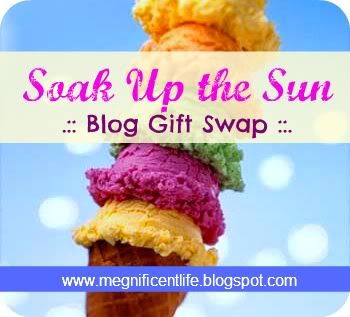 Other than shopping I'm looking forward to spending some time with my HoneyBee...The last few weeks I've spent it with my nose in the books and kind of neglected him a bit, so I'm ready to spend some QT with him
.

( & now that Daddy has finally met him, I can introduce you to the man who has filled my life with endless smiles and laughter.)
Me & My HoneyBee
I'll write up another post about my HoneyBee, how we met, and meeting the Parentals soon.
I Promise!
Hoping your weekend is filled with sunshine!